11/7/02

Rock'n'Roll Club in Ireland


I have often been contacted, through this web site, for info on Rockabilly 
or Rock'n'Roll gigs in Ireland. Unfortunately, I don't have any info except
for our own gig list. It gave me the idea to start up an Irish Rockabilly, 
Rock'n'Roll, Retro Club. I want to start by compiling a FANZINE page to 
provide info and to promote other Rockabilly bands/clubs/events in Ireland.
The idea is to provide nation-wide info to anyone who likes our kind of 
music. I'm sure there's a lot of interest in this around Ireland but there's 
never been an info point available.
So, if you have anything at all you think fits the description, send it to 
me at the following address.

E-mail Sammy

16/5/02

Kilkenny 2002


Breathnach's Bar kindly asked us back to play for them in the 2002 Kilkenny
Rhythm & Roots Festival. They said we were their 'personal favorites from
last year'.  There was plenty of Rockabilly, Swing, Rock'n'roll and Zydeco
for the dancers to show what they could do. It was great to see lots of 
familiar faces around. Some local, some from Cork and some from further 
afield. 
This festival never lets you down and this year's line up included The 
Saber Jets, The Rimshots, Lanette Morgan & the River Valley Boys, The Coal 
Porters, and CJ.Chenier & his Red Hot Louisanna Band. 
Here's some pictures thanks to Brenda.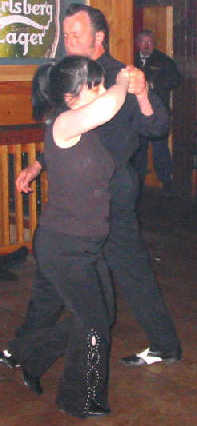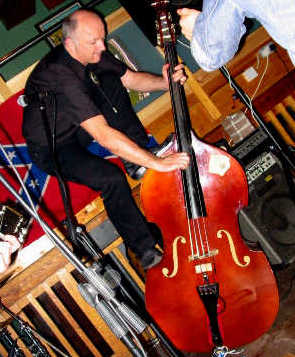 Above, SeŠn Duff and his partner Geraldine show what they can do on the 
dance floor while Rockin' Sammy shows off on the double bass.
Below, some shots of the Sabre Jets playing.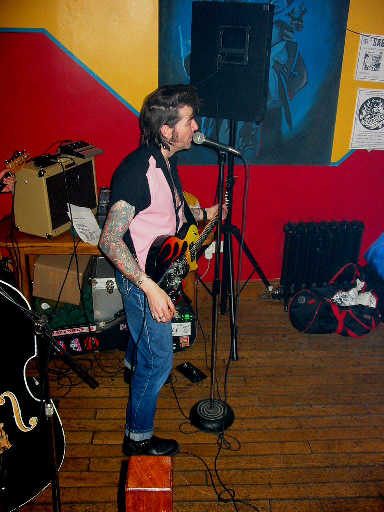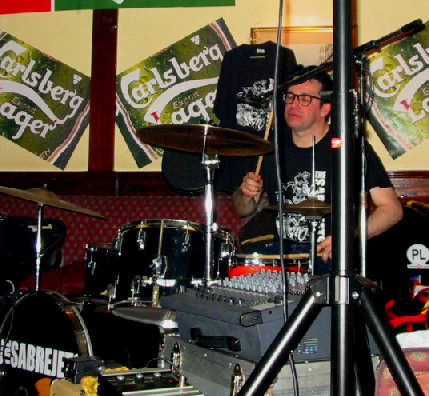 8/1/02

Trinity Records


Calling all Dublin Rockabilly fans......Trinity Records on Dame Lane 
(opposite the Central Bank) have our CD, Too Hot To Rock'n'Roll, in stock.
I'm not sure of the price. I think it's about 8 euros.


19/12/01

Biddy Mulligan's


The Cats will be playing early this Friday evening in Athlone's foremost
live music venue, Biddy Mulligan's. This is the traditional Christmas 
kick-off gig which we've been doing for the last four years. It's always 
pretty mad, so if you fancy a pint and a bit of rock'n'roll when you 
finish work on Friday, be sure to call down to Biddy's at 5.30pm.


1/11/01

Cats in Ferbane


We're back in Joe Hiney's Bar this Saturday (3rd Nov.)for the first 
time since the Ferbane Festival last June. Hiney's is a well known venue 
for great music and its patrons really enjoy a session. It's also where 
we made our public debut almost four years ago.





16/10/01

Brian Setzer in Dublin


We went to see Brian Setzer's 68 Comeback Special in Vicar St., Dublin
last night and bumped into a lot of old friends from around the country
They came from far and wide: Belfast, Kilkenny, Cork, Claremorris, Kerry, 
Athlone, Roscrea and Galway. We certainly weren't disapointed with the
show. Setzer is one ROCKIN' DUDE. 





6/7/01

Kilkenny Again


We've just received the details of our gigs in Kilkenny for the Bob Dylan
week-end (13th-15th July). We'll be playing in three pubs that we haven't 
done before. They are Maggies on Friday night, Clears on Saturday afternoon 
and Ryans on Saturday night. We'll be looking forward to seeing Bob on 
Sunday 15th.


4/5/01

Kilkenny Cats


The Cats are back in Kilkenny again this year for the Budweiser
Country & Roots Festival. We'll be playing in Breathnach's Bar at 
9pm on Sunday 6th. We're looking forward to seeing Jason Ringenberg 
playing there. We're also looking forward to seeing the Athlone 
Kittens (Leah, Mich and Jo), if they make a re-appearance.





27/2/01

The Memphis Club


Mark from Dublin's Memphis Club mailed us to confirm the details of
our gig there on March 16th. The club is run in the City of Dublin 
Working Mens Club on Wellington Quay beside Clarence Hotel.


7/12/00

Guestbook Working Again


I got a mail a few days ago informing me that our guestbook 
was not working properly (Thanks Ivan). That explains why nobody 
has signed it since last July. Our appologies to anyone who
tried in vain to sign our guestbook for the last 4 months.
The fault is fixed now and it should be working fine.


8/9/00

Cats in the Kingdom


The Cats will be playing a number of gigs in Kerry between 
now ond the end of the year. The dates so far are as follows:
September  8  Fri.  The Beach Bar, 
                    Carrolls' Cove, Cahersiveen         10pm
October   14  Sat.  The Square Pint, Kenmare 		10pm
More dates will follow.


15/8/00

Sligo Dates


The Cats will be visiting Sligo at the end of August. It's
always a rockin' good time when we go to the Northwest so 
we're looking forward to seeing some familiar faces....
...even Finn's. 
August    31  Thu.  The Garavogue Bar	  	10pm
September  1  Fri.  Shoot the Crows Bar 	10pm
We may have some special guests too.


4/8/00

Waterford SprŠoi Dates Confirmed


The venues and times for our gigs in Waterford have been 
confirmed. They are...
August  4  Fri.    Egans' Bar			9.30pm
August  5  Sat.    The Three Ships		10pm
August  6  Sun.    Phil Grimes Pub		10pm
Last year's SprŠoi was really good fun so we're looking
forward to more this week-end.


11/7/00

July Dates


The three TrŠ Fest gigs went very well with 'Delboy Noughton'
standing in on drums for The Chef. We even got to play an 
extra gig on Saturday night for the Freewheelers Motorbike 
Festival in Houghton's Pub, Kilmeadan (thanks Gaff).
The Chef was back in action for Cuba Niteclub gig on the 5th.
The joint was a jumpin' that night and Hellen-Anne took some 
photos which we hope to see soon.
The opening date for An Proinnteach Venue, Lahinch, Co.Clare
has had to be put back due to delays in the building. The 
new date has yet to be set.


26/6/00

TrŠ Fest Dates Confirmed


The venues and times for our gigs in Tramore have been 
confirmed. They are...
July   1   Sat.    The Victoria, Tramore		5pm
July   2   Sun.    Pavement Gig (open air), Tramore	2pm
July   2   Sun.    O'Neills' , Tramore		       10pm


30/5/00

Waterford Bud Beat


The venues for our Waterford dates next week-end have been 
confirmed. They are...
June   2   Fri.    Katty Barry's, Waterford 		10pm
June   3   Sat.    McLoughlins', Waterford       	10pm
June   4   Sun.    The Hog's Head, Waterford   		10pm


17/5/00

1000th Visitor


SeŠn Connolly from Galway today became the 1000th visitor to this
web site. SeŠn will receive a Giant Mars Bar as his prize.
Well done SeŠn and congratulations from Jimmy, Sammy and The Chef.


8/5/00

Smokin' in Kilkenny


We had three rockin' gigs in Kilkenny for the festival. There was
a big contingent form Athlone in Biddy Early's on Sunday when the 
PA amp went up in smoke. Thanks to Jimmy behind the bar and Paddy 
O'Dwyer we had a replacement amp in 10 minutes.



Unfortunately, Flaco Jiminez was cancelled and we were playing at 
the same time as The Derailers and The Boz Boorer Band but we did 
get to see The Tennessee Rhythm Riders play in Paris Texas on Sunday 
afternoon ....great gig lads.


11/4/00

Kilkenny Rhythm & Roots Festival 2000


The Cats next outing is at the Kilkenny Rhythm & Roots Festival which
takes place from April 28th to May 1st. Our dates are...
Fri. 28       Langtons, Kilkenny  			   10pm
Sat. 29       The Grain Store, Kilkenny  		   10pm
Sun. 30       Biddy Early's, Kilkenny  		           10pm

The main events of the festival include Flaco Jiminez, The Derailers, 
The Holms Brothers and The Boz Boorer Band.
The Black-Eyed Peas and The Tennessee Rhythm Riders will make a welcomed 
return to the festival. There'll be no shortage of great music.


11/4/00

New Poster


Larry Hynes designed a new poster for the band. 
What do you think of it?